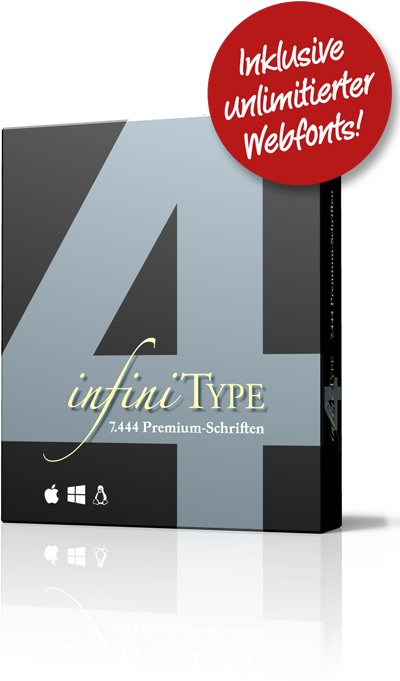 infiniType 4
7,444 first-class fonts for professional users
Fonts suited to professional use by designers, print shops and publishing houses are expensive. Often very expensive. A price of US$ 200 or more is not rare for a well-developed font family – webfonts not included!
The new font library infiniType 4 is the smart alternative for everyone who uses fonts professionally. For a fraction of the price the large font houses charge, you will receive a huge collection of 7,444 first-class fonts – precisely crafted, with full character sets and the highest print quality.
All fonts in the infiniType 4 library are available in the formats OpenType PS and TrueType and are suitable for Mac, Windows and Linux. Many of the fonts include advanced OpenType layout tables for perfect typesetting in Illustrator, InDesign and Photoshop.
Every single font in the infiniType collection is also included as a webfont in WOFF, EOT and TTF format.
infiniType makes using webfonts incredibly simple: We give you unlimited pageviews, and you can host the webfonts yourself. Say good-bye to counting the pageviews and relying on external servers!
infiniType 4 makes print and web typography affordable!
Features
7,444 premium fonts, each in OpenType PS and TrueType format
Each of the 7,444 fonts is also included as a webfont with unlimited pageviews.
Numerous classics included, such as Baskerville, Bodoni, Franklin Gothic and Garamond
Balanced blend of text, headline and decorative fonts
Many fonts include extended OpenType layout tables for professional typesetting
Each font offers a complete character set including accents, umlauts, and individually designed euro symbols
Numerous fonts with Central European and Turkish characters
All fonts are immediately usable. No subscription, just a one-time purchase.
The fonts may be embedded in PDF files.
Compatible with all versions of Mac OS X, macOS, Windows and Linux
Full version
License for 1 computer
€/$ 299
Site license for 25 computers
€/$ 399
Upgrade
License for 1 computer
€/$ 129
Site license for 25 computers
€/$ 179
Appetizers
Here is a selection of the infiniType fonts.